Adding grated carrot to an egg salad and using homemade mayo makes this dish just a little bit special. To be honest I was  surprised how good it was and I'll be adding this to my repertoire. From time to time I host workawayers and that means making lots of lunches and dinners that are healthy, delicious and balanced to keep spirits and energies up. I'm always looking for recipes that I can make with what I have on hand and eggs are often overlooked and in abundance.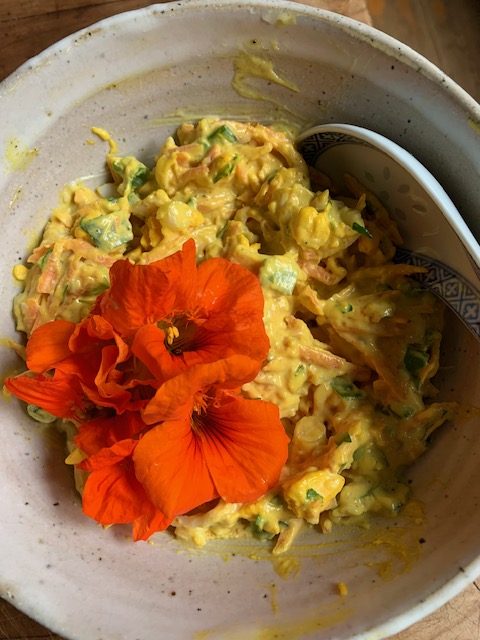 Here's the link to the easy mayo recipe 
Ingredients for the curried eggs; 6 hard boiled eggs (I did 12 minutes) 1/2 teaspoon curry powder (or more to your taste), salt and pepper, 2 small spring onions chopped using the green and white parts, 1 peeled grated carrot, a few sprigs of flat leaf parsley roughly chopped (trim off the stalks)
Add the curry powder (I used mild) to the mayo with salt & pepper, give it a good mix then spoon over the remaining ingredients. Chop the eggs roughly and gently mix together. It really is very good! Enjoy!