Quick and easy to make this chickpea curry has become a firm favourite. The recipe was introduced to me by my friends daughter who found it on the web. I've changed it up a bit just as she did. This ticks all the boxes as I always have the ingredients on hand, it's healthy, tasty and a favourite with the mokos. Serve with plain white rice and a side of veg.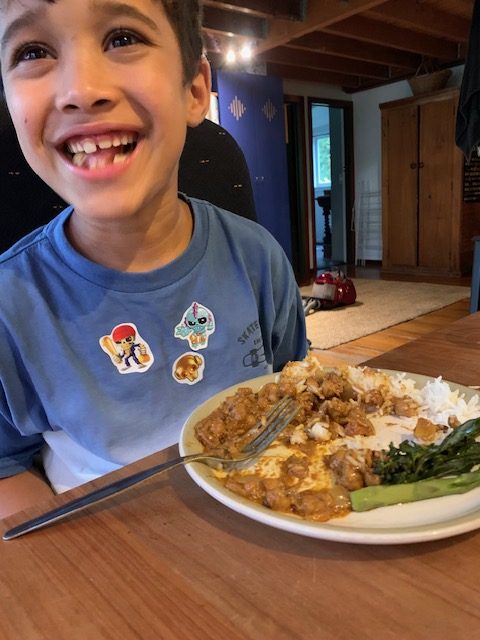 Ingredients; 2 tbs coconut oil, 1 medium diced onion, 3 cloves garlic minced, 1 can tomatoes, 1 can chickpeas rinsed, 1 400gm can coconut milk/cream. Salt and Pepper, 2 Tablespoons garam marsala, 1 Tablespoon curry powder, 1/2 teaspoon cumin powder, a few finely chopped silverbeet leaves or some frozen spinach. The juice of 1 lemon (or a lime if you are lucky enough to have one)
In a large pan saute onions, garlic for a few minutes then add tomatoes and salt and pepper. Gently cook down for about 10 minutes until cooked and combined.
Add rinsed chickpeas and all the spices. Stir to combine. Add coconut milk and bring to a simmer and cook for another 10 minutes until a nice thick sauce. Add the silverbeet/spinach leaves and cook for a few more minutes.  Season with more salt and pepper if needed and squeeze over lemon juice before serving. Enjoy!