I took a trip down memory lane today and made this delicious Greek cake that was once a regular part of my baking repertoire. My son who is visiting from London reminded me that this was/is his favourite cake and he would always request it for his birthday.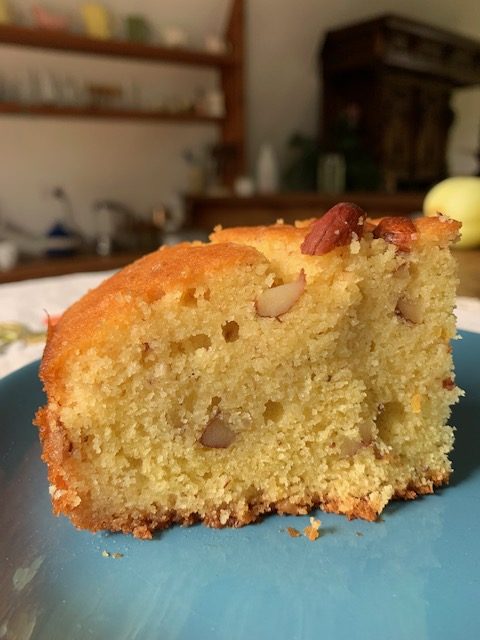 I had forgotten! Chastised I searched through my "Complete Middle East Cookbook" so I could make it for him in lieu of fifteen years worth of birthdays celebrated without it. I've decreased the syrup portion a little here as I can't (in all conscience) use as much sugar as the original recipe.
INGREDIENTS for the CAKE; 125g butter, 3/4 cup caster sugar, grated rind/zest 1 lemon ( I added some of my frozen left over strained lemon zest from my lemon curd)  3 eggs, 1&1/2 cups fine semolina, 1 cup plain flour, 4 tsp baking powder, 1/2 cup milk,1/2 cup finely chopped toasted almonds, a few split almonds.
INGREDIENTS for the SYRUP; 1 cup sugar, 1& 3/4 cup water, 2 tablespoons lemon juice.
METHOD for the CAKE;    Preheat the oven 180C and grease and flour or line a regular sized cake tin
1/ Cream the butter, sugar, and lemon rind/zest until light and fluffy. Add the eggs one at a time beating well each addition.
2/ Sift semolina, flour and baking powder twice and fold into the butter mixture alternately with the milk. Lastly fold in the finely chopped toasted almonds.
3/ Spread into the prepared cake tin and arrange a few split almonds over the top.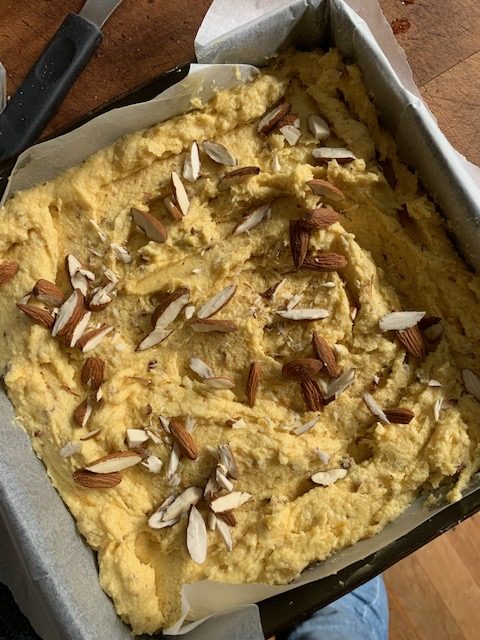 4/ Bake in the preheated (180C) oven for about 40-45 minutes until golden and a skewer comes clean.
METHOD FOR THE SYRUP; 5/ While the cake is cooking prepare the syrup in a small pot by dissolving the sugar in the water and add the lemon juice. Bring to the boil and continue simmering for about 20 -30 minutes. Leave to cool. (You may have to help it to cool off quickly with the help of an ice bath as I did)
6/ When the cake is cooked, remove from the oven and pour the cooled syrup over the hot cake. The syrup will penetrate more evenly if the surface is pricked all over with a fine skewer before pouring on the syrup.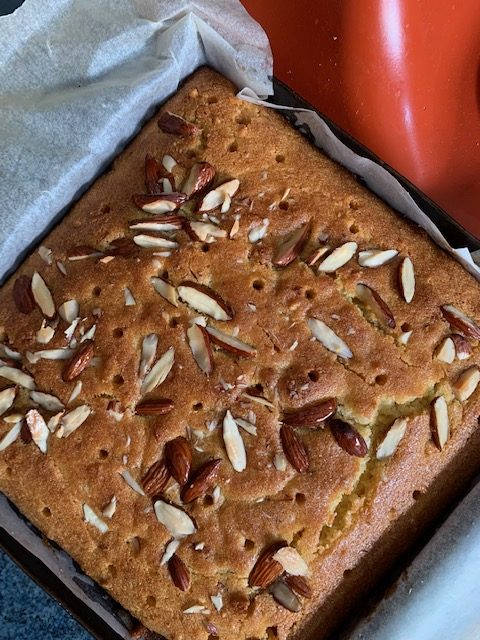 7/ Leave in the tin to cool before serving. Serve either plain, with cream or greek style yoghurt.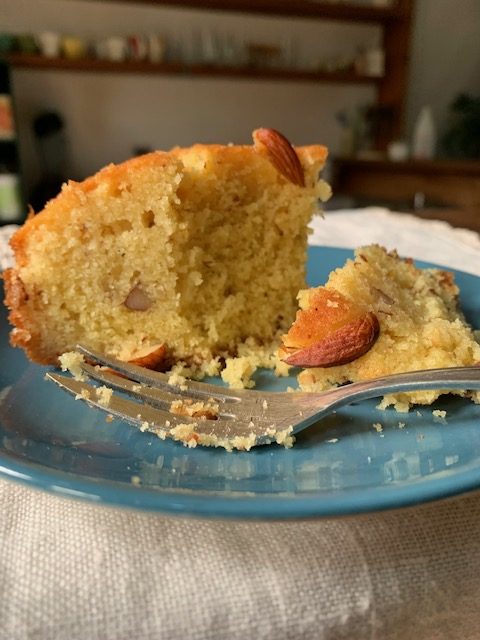 Enjoy!