I have loved baking and bread-making all my adult life. I've referred in a previous post to my nana and aunties who were such reliable home bakers but it seems I'm walking a different path (for now) and finding my way through this gluten free maze. For years I have resisted and resisted this nuisance thing, but post menopause it seems that for some of us, certain food groups we can no longer tolerate. I've always used organic wheat where possible and then spelt to boot but it doesn't make a scrap of difference. I am gutted which is an appropriate response I suppose. I've always known I couldn't eat too much wheat because of feeling bloated but now it's progressed to sore throats, sinus, constant watery eyes, headaches, digestive disturbances blah blah. I'm sick of feeling sick so Ive decided to take the bull by the horns and do some experimenting to find recipes that I personally like and that I can share with others knowing they will enjoy them too.
Yesterday I made this peanut slice. It's pretty moreish surprisingly, for me, as peanuts in baking aren't really my thing. I had a large bag of organic blanched peanuts in the freezer so a perfect opportunity to use some up. The original recipe came from "Goodbye Gluten" written by Sally Holland and this book has been a great start for my journey. I do find many of her recipes are too sweet for my taste and usually decrease the sugar content. For this one, I omitted the icing glaze which contained a whopping 1&1/2  cups icing sugar and added quinoa flakes to the biscuit mix.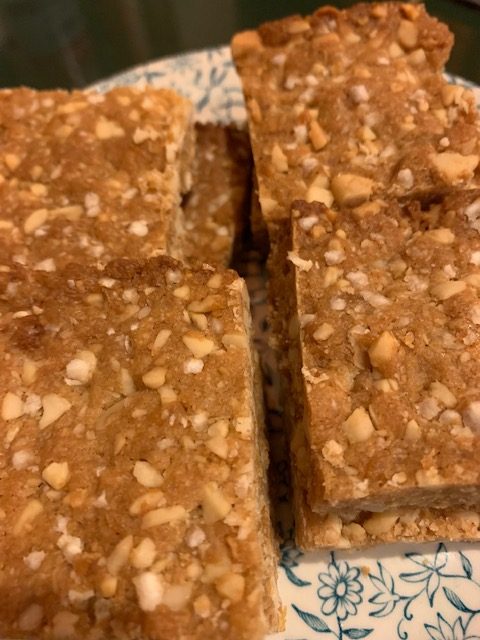 Ingredients; 125gm butter, 1/2 cup sugar, 2 TBsp golden syrup, 1 cup gluten free flour, 1/2 tsp baking powder, 1 cup raw peanuts chopped finely (processor is best), 1 cup cornflakes (crushed in your hands) and 3/4 cup quinoa flakes
Method; Preheat oven to 180C.
Prepare a sponge roll tin by lightly greasing or lining with baking paper.
In a small pot melt butter, sugar and golden syrup. Be careful not to overheat and cook.
In a mixing bowl sift the flour and baking powder.
Add chopped peanuts, quinoa flakes and crushed cornflakes to the flour, stir to mix before adding the syrup mixture and combining well.
Press the mixture out evenly into the prepared tin.
Bake for approximately 15 minutes or until golden.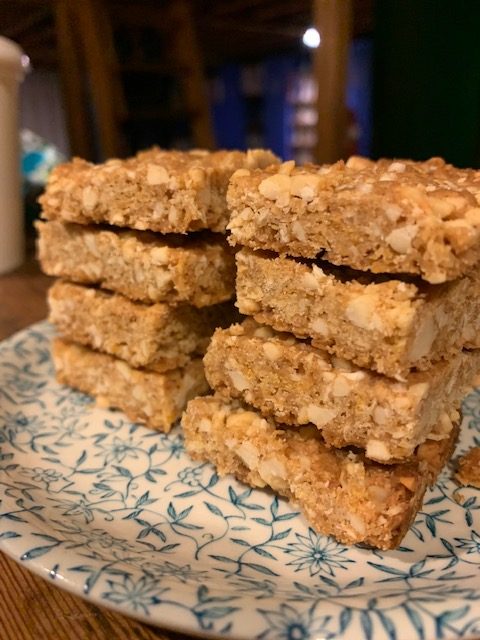 Let cool in the tin and before slicing into squares/bars.