This is the Christmas cake I used to make every year until the mood changed and my people stopped eating Christmas cake. I  would end up eating the whole thing myself slowly over a few months post Christmas but in truth the weather isn't right for traditional Christmas cakes here in Aotearoa. My eldest daughter who lives in London has been cooking up a storm, sending me pics of her  tins filled with Christmas goodies, and I just had to jump on the band-wagon again. Using the full recipe I made us a medium sized cake instead of the great slab I used to and five very small cakes which I can give/send as gifts.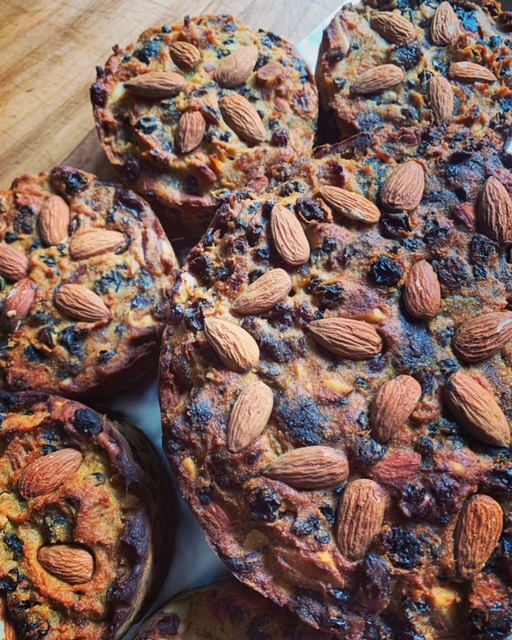 I can't take any credit for this amazing cake as it came from Maria Middlestead's book Cooking Naturally which was one of my go-to's when my kids were at home. Like most Christmas cakes you first need to soak the dried fruit overnight. What I especially love about this cake is the addition of ginger either crytsalised or raw.
Chop 200g each of raisins, sultanas, prunes, apricots, banana and currants. Add 100g of mixed peel, crystalised ginger (or 4 tbs diced raw ginger. Pour over 3/4 cup of liquid. Alcohol or apple juice. I used Brandy and Grand Marnier cos that's what I had. Soak covered overnight.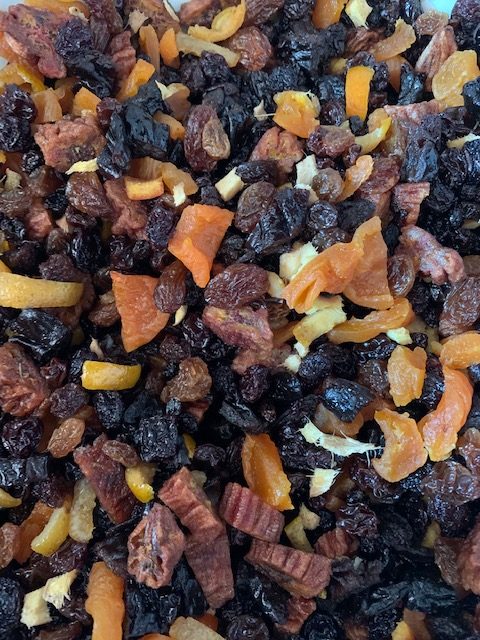 Next day stir in 3 cups flour (I used rice and coconut this time but I have used chickpea and soy in the past)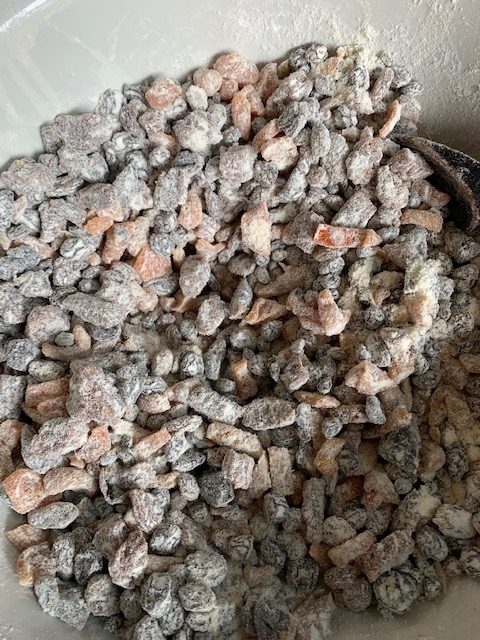 Whizz in the blender 1 tin drained pineapple pieces, 1/2 cup honey, 3/4 cup good oil, 2 ripe bananas,1 tsp vanilla essence and 2 tsp almond essence.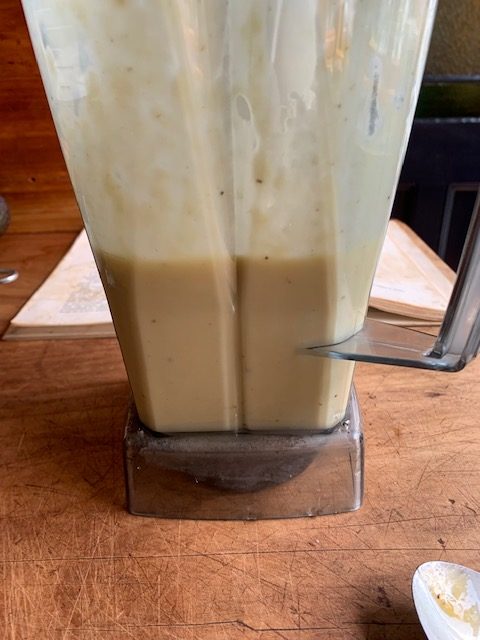 In another bowl beat well 6 large eggs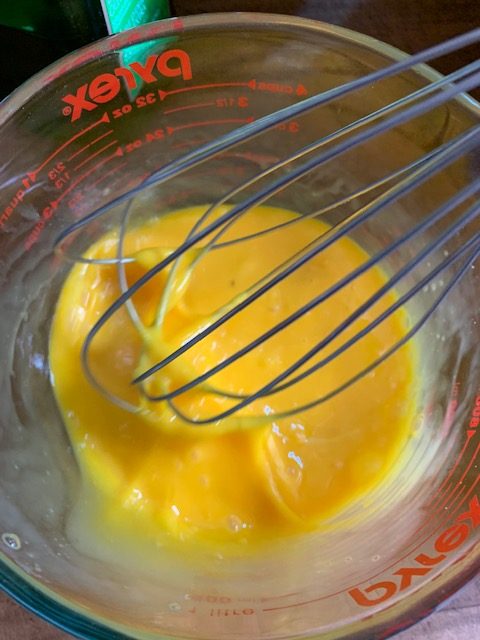 Combine pineapple mixture and egg mixture then add to the fruit/flour mixture with 200g each chopped brazils and almonds.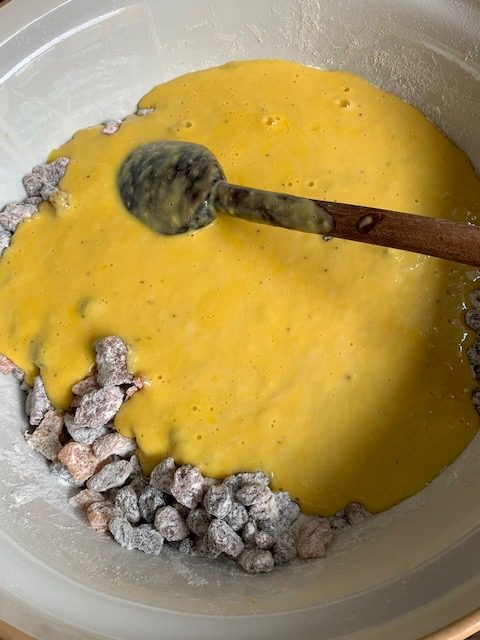 When making fruit cakes it's important to line the bottom and the sides with at least 2 layers of greased brown paper.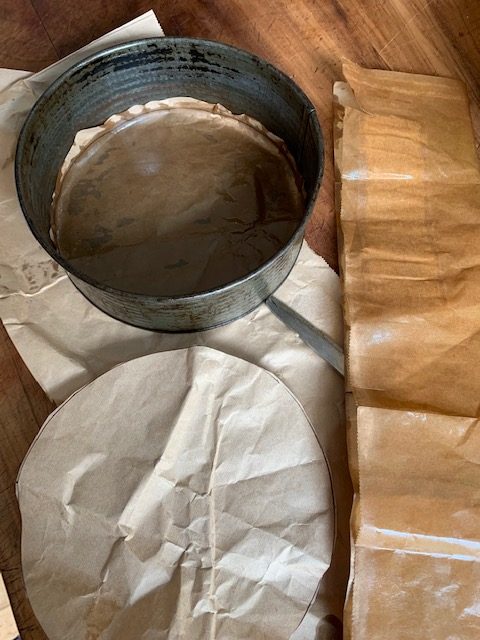 This help to stop the cake drying out too much on the edges.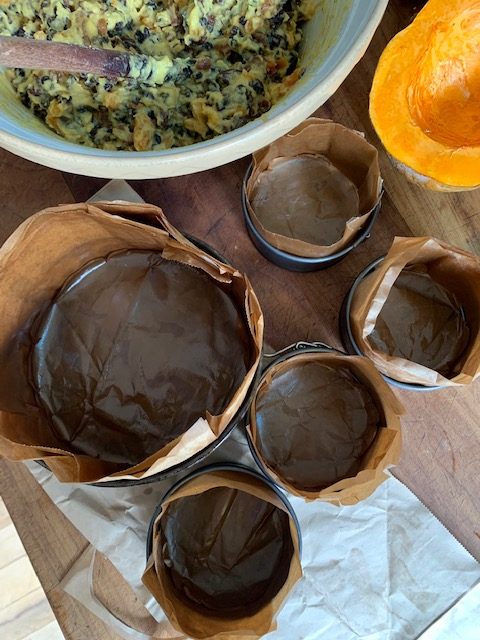 This will fill a large 10in tin with 3in deep sides with a little extra for a small cake. This time I used a smaller cake tin and 5 sampler cake tins.  Decorate the top with raw almonds before it goes into the oven.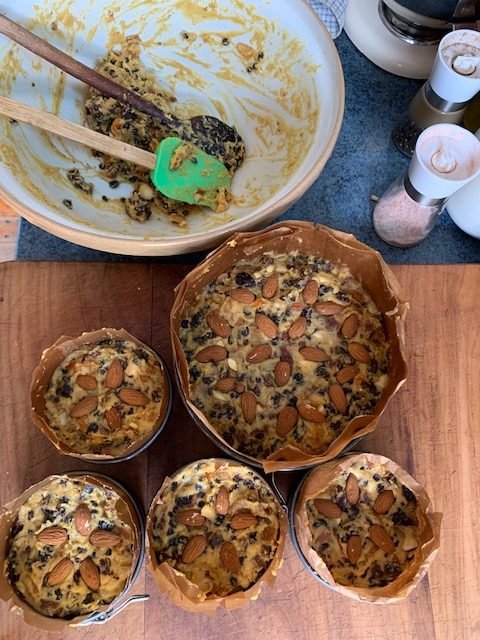 Bake at 150C for around 1 1/2 hours. Take the smaller cake/s out earlier careful not to overbake.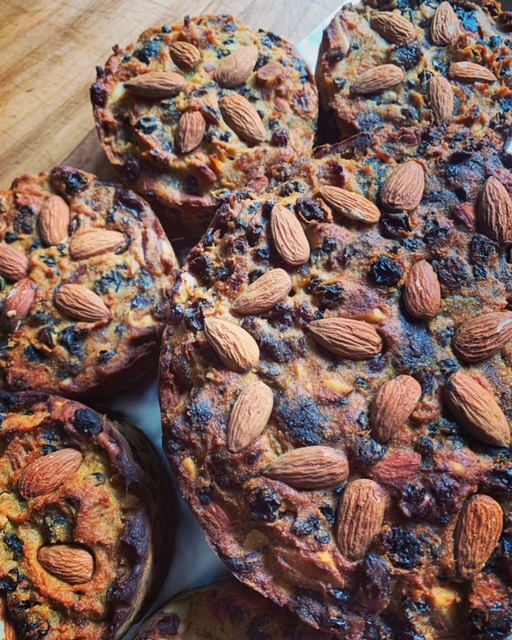 Peel off the paper and allow the cakes to cool completely before wrapping in tinfoil or cloth and store in an airtight tin.
Store in a cool place and douse with more alcohol such as brandy if that's your preference. Enjoy!