Recently I've had a hankering for some old-fashioned date and walnut loaf. I visited the Binn Inn in Silverdale yesterday as I had seen on facebook that since this recent lockdown they've had hardly as many customers as usual and I wanted to support this small and local business. With all the fear and paranoia emanating from shoppers at the big supermarkets, the lines, the masks and the drama, I would much rather go to a smaller establishment and not experience any of that. Of course we still did the sign in and the hand sanitizing but the whole experience was much more relaxed and I value that. Anyways I bought some dates and quite a few other things and I hope they'll do okay because really and honestly, small business such as mine will never do well under this new regime of lockdowns.
The date loaf I was remembering was one my mother made probably over 50 years ago. Baking powder used to come in metal tins and I can remember her baking these inside the tins like a steamed pudding. The were cooked so beautifully and held together so densely you could slice them very thinly. Gluten free just can't compete but my puku calls the shots these days so gluten free it is.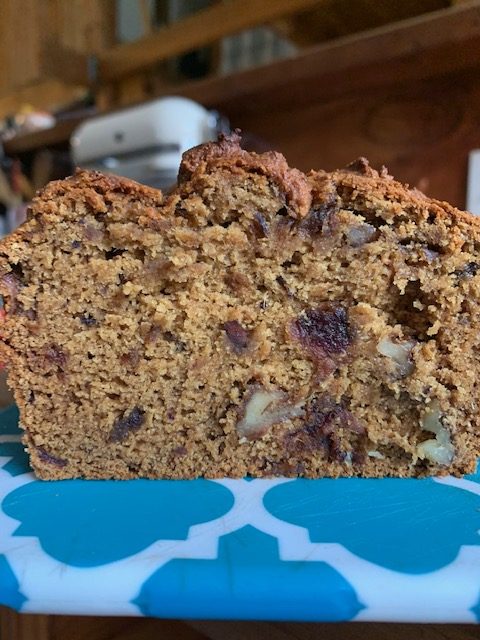 Ingredients; 1 cup dates roughly chopped, 1 cup strong hot tea, 1 tsp baking soda.
1 cup brown sugar, 1 tsp vanilla essence, 1 egg mixed, 1 tbsp melted coconut oil.
2 cups flour; I used a combo of gluten free flour, coconut flour, fine corn meal, almond meal, 2 level tsp baking powder, a generous 1/2 cup of chopped walnuts.
Method; Place chopped dates in a bowl. Sprinkle with baking soda and cover with hot black tea. Set aside for 1 hour for dates to soften and cool. Preheat the oven 160c. Grease and flour a standard sized loaf tin.
Stir brown sugar, egg, coconut oil and vanilla into the now cooled date mixture. Mix in sifted flour, baking powder and walnuts to combine. Spoon mixture into prepared loaf tin. Bake for 45-50mins or until a skewer comes out clean.
Cool, slice and spread with butter. Enjoy!