It's plum season and we have multiple trees laden with fruit. The birds always manage to eat much of it early on but from experience I've learned they always leave enough for all of our needs. Last year I made enough plum sauce for years to come. This is something I try to do with some of my preserving. That way I can focus on one thing each year. So yeah last year it was plum sauce which absolutely tastes better the longer it sits. A few years back we opened a bottle my mum had in the back of her pantry for over ten years and OMG it was amazing! The year before last I grew deka cucumbers and made fifty or so agee jars of dill pickles to last a good few years. It's so easy to be generous when you feel you have plenty. Preserving your own produce takes time and patience for the growing and the pickling and if you have a good crop of something you might as well go for it. Every growing season will be different and a good crop is never guaranteed. Bottling fruit or making jams is another story. Two years is the maximum for me for retaining colour, flavour and perhaps goodness.
With no need to preserve any plums this year I've been thinking of new recipes for using the fruit. I typically make a plum centre Basic Butter Cake or a plum clafoutis but each year I try to make something different. For my taste it's hard to beat a clafoutis but this shortcake comes close.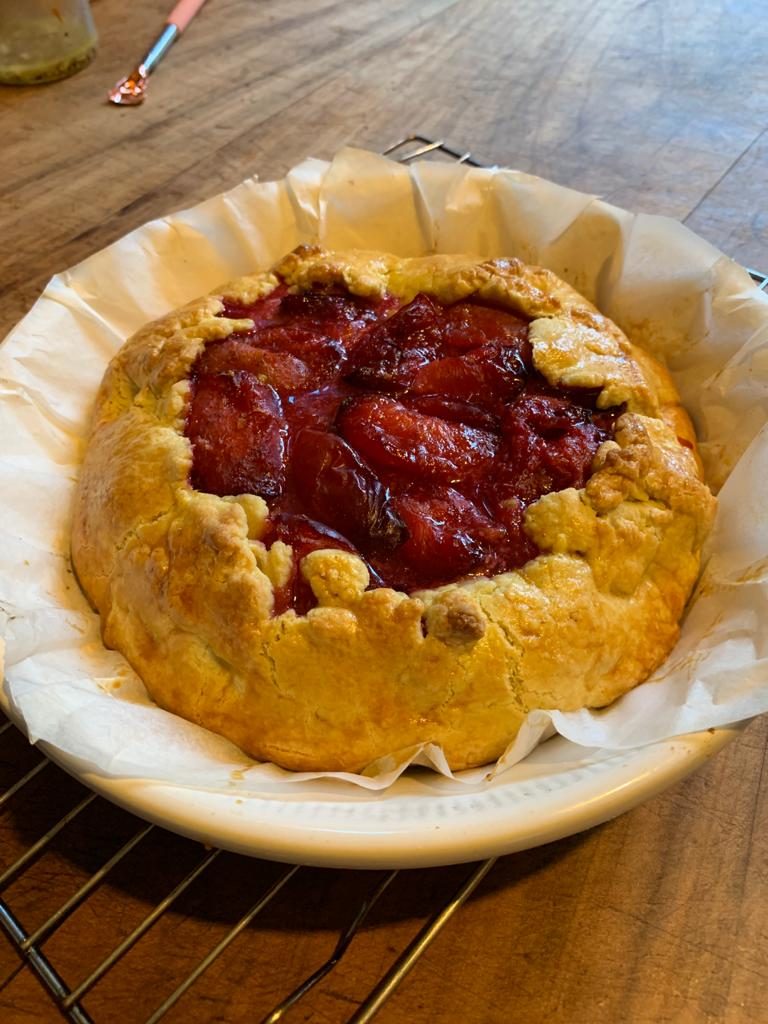 For the Filling; 8 good-sized plums quartered and stones removed, ½ cup sugar, 2 Tbsp cornflour, ½ tsp cinnamon
zest of 1 orange and 1 cup almond meal.
For the Shortcake; 1½ cup plain flour, ¼ cup caster sugar, 100g cold butter, 1 egg and 1 or 2 Tbsp cold water.
For the Finishing; 1 egg, whisked.
Preheat the oven to 180c.
First place the prepared plums, sugar, cornflour, cinnamon and orange zest into a sieve placed over a bowl to catch any draining juice. Stir to coat the plums. Leave to sit while you make the shortcake pastry.
Now to make the shortcake place the flour, sugar and butter into a food processor, whizzing until it resembles fine breadcrumbs. Add the egg and continue to process until the dough comes together. Add 1 or 2 tablespoon cold water to combine if needed. On a floured board roll out the dough to a 30cm wide circle (approx).
Place baking paper into a pie dish large enough to accommodate the dough and carefully roll the dough over your rolling pin to transfer onto the baking paper. Spread the almond meal over the base of the dough leaving about 3cm free around the edge.      Layer the plums on top of the almond meal and bring up the surrounding dough over the edge of the plums. Brush with the egg wash and bake in the pre-heated oven for 40 minutes til the shortcake is golden. Leave to cool before serving. Enjoy!