I've been making hot cross buns every Easter for 30 years now always with the same base recipe, but changing up the spices and the fruit and/or chocolate. Some years the buns have not been as good as others but this year I was told they were the best batch ever. This also being the year of the covid 19 virus lockdown, instead of spending the day making copious batches and inviting family over to gobble them up, I made a solitary batch. Living as we do on our shared family block here in puhoi I was still able to drop off a few buns to different peeps to have in their own bubbles/homes which was nice.
My original recipe is from one of those Woman Weekly cookbooks sold in supermarkets in the 80's. Mine is "Cooking class Cookbook" and my kids who spent an enormous amount of time in the kitchen made good use of it. The ingredients below are the basic ones which make a fine bun but I'll put in brackets what I did this time as some of it was a bit random.
Ingredients for the buns; 4 cups good bread flour (I used a mix of organic spelt white flour and organic bread flour), 1 tsp salt, 4 level tsp dried yeast, (I used a dollop of my starter I had in the fridge and 2 scant tsp dried yeast), 1 & 1/2 cups milk, 3/4 cup sultanas (I also added 1/4 cup currants & 1/4 cup cranberries), 60gm butter, 1 egg, 6 tsp spices ( I used 4 tsp cinnamon, 1 good tsp coriander pwdr & 1 good tsp mixed spice) sometimes I add cloves, nutmeg, chocolate or mixed peel but not this time.
Things to know for baking with yeast; I always rise my yeast in a plastic bowl as a metal or china bowl reduces the heat too quickly. It's important for the liquid (in this case the milk) to be at a lukewarm temperature. If it's too hot it will kill the yeast and it won't rise. The longer the dough takes to rise it often means the tastier it will be, however if time is an issue you may need to create a warm environment to hurry it along.
Ingredients for the crosses; I heaped half cup flour and a good 1/3 cup of water.
Ingredients for the sticky glaze; 1 tbsp sugar, 1 tsp gelatine  and 1 tbsp hot water.
Method; In a plastic bowl add the yeast (this is when I added my starter and only 2 tsp yeast granules), 1 tsp flour, 1 tsp of the sugar (I used honey) and the milk warmed to lukewarm. Mix well, cover and stand in a warm place for between 15-30 minutes until the mixture thickens and goes frothy.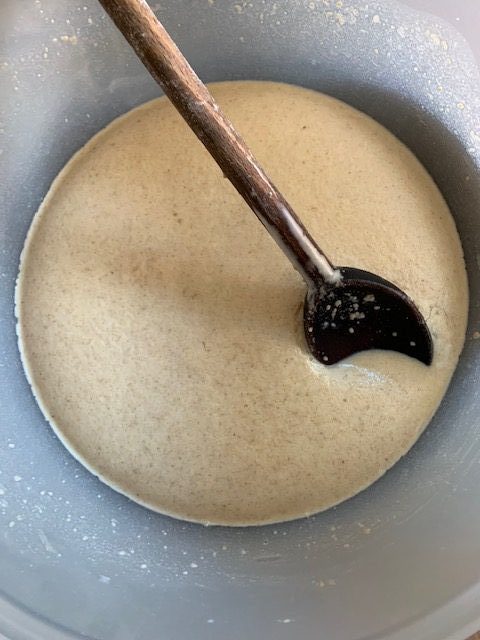 Meanwhile in a large mixing bowl sift flour, salt, sugar and spices.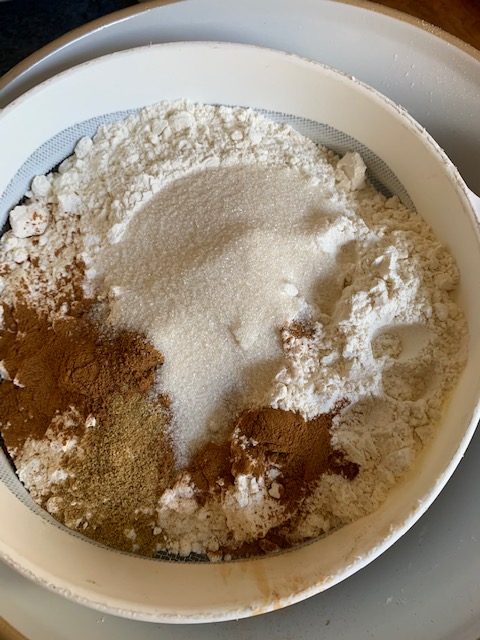 Rub in the butter. See it's child's play!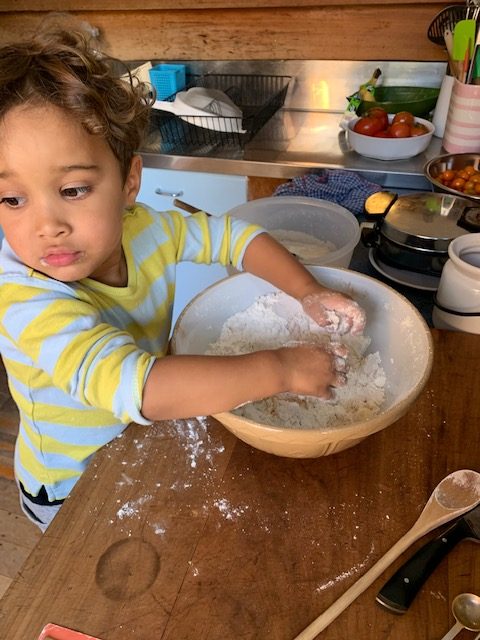 Now add the beaten egg, dried fruit and yeast mixture.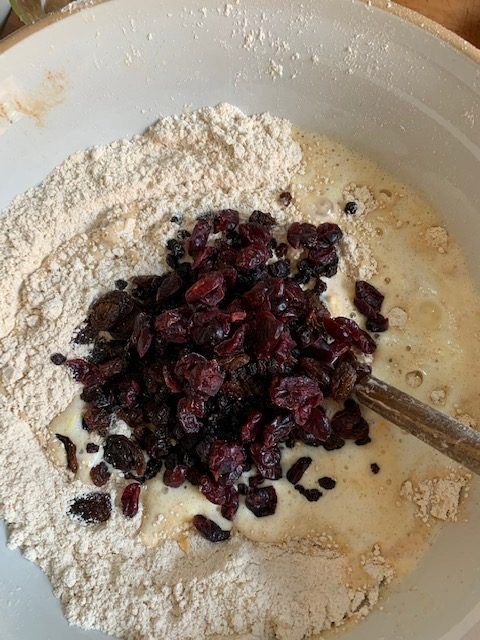 Mix and knead well until the dough is soft and elastic. This will probably take about 10 minutes. Form into a ball and place into the now well oiled mixing bowl. Cover and leave in a warm place until doubled in bulk. This can take anywhere between 1 to 3 hours depending on the air temperature.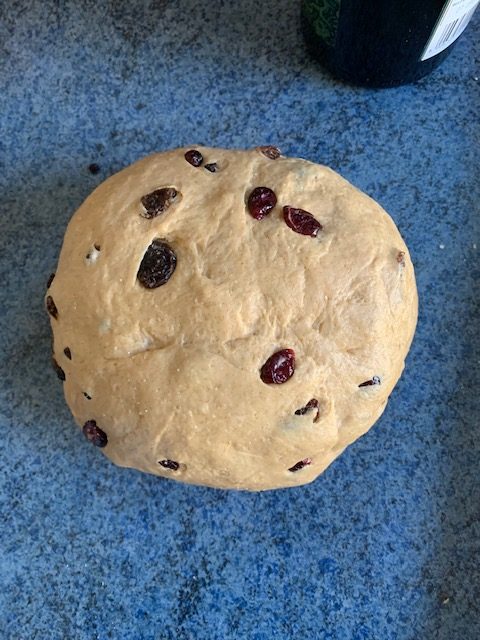 Once risen punch the dough down and knead again until soft and elastic. Cut dough into three equal pieces and divide each piece into five to make 15 buns. Knead each portion to form a round shape and place into a lightly greased lamington type tray (18cm x 28cm or similar)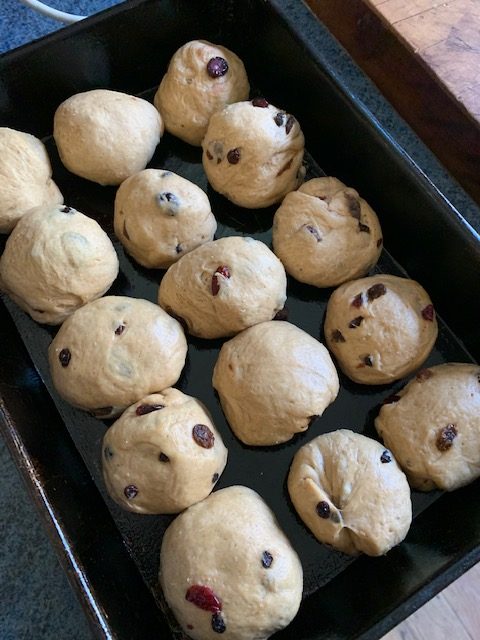 Leave the buns in a warm place until they have again doubled in bulk and the buns reach the top edge of the tin. Mix up the flour and water for the crosses and spoon into a small plastic bag. Cut a hole in one corner of the bag, just large enough to allow the mixture to be squeezed out to form the crosses. Once the buns have risen enough then pipe the crosses on the buns.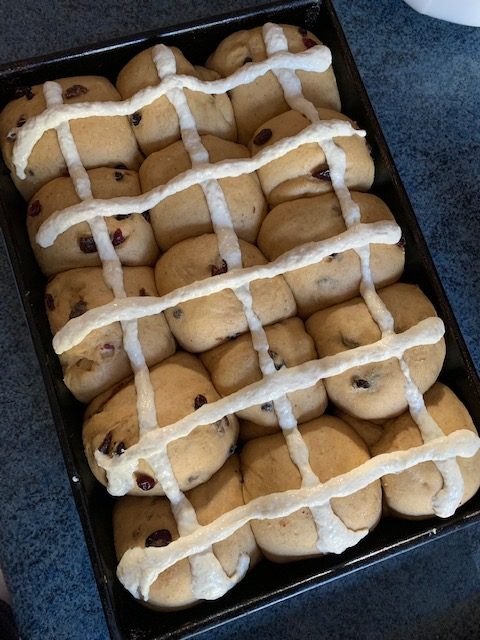 Voila! Bake in a preheated hot oven (200C) for 15-20 minutes. Mine were perfectly cooked at 18 minutes. It's easy to burn them so keep an eye on for the last few minutes.In the last few minutes of cooking time prepare your gelatine glaze.  As soon as they come out of the oven remove from the tin and brush over the gelatine wash while still hot. Cool on a wire rack.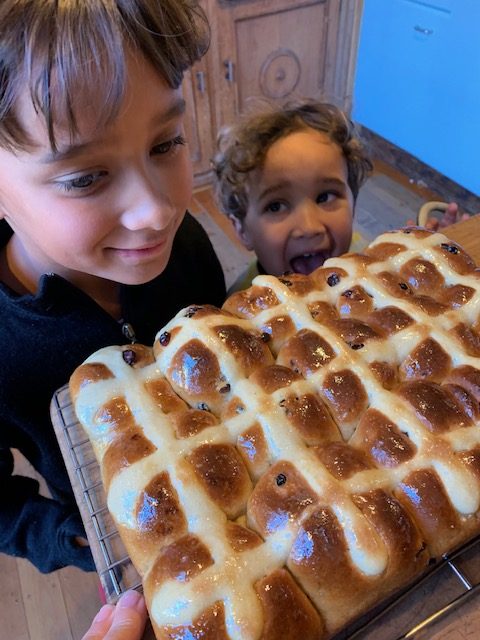 Enjoy!