This cabbage and apple dish is one of my favourite side dishes to accompany any pork dish. We grow our own free range heritage pigs and the day our sow gave birth to seven babies was the day we had scheduled to transform one of the others into food. Jake our resident pig carer/farmer gathered some of his good mates and they had a day of butchering and packing our own organic meat. Every last bit of it will be used for different types of products to be cured, brined or smoked. Understandably this is not for the faint hearted but we are a meat eating family and when we can, we choose to take responsibilty for the death of any animals we intend to eat. We can't pretend that the packaged stuff purchased in supermarkets was not once a living, breathing being.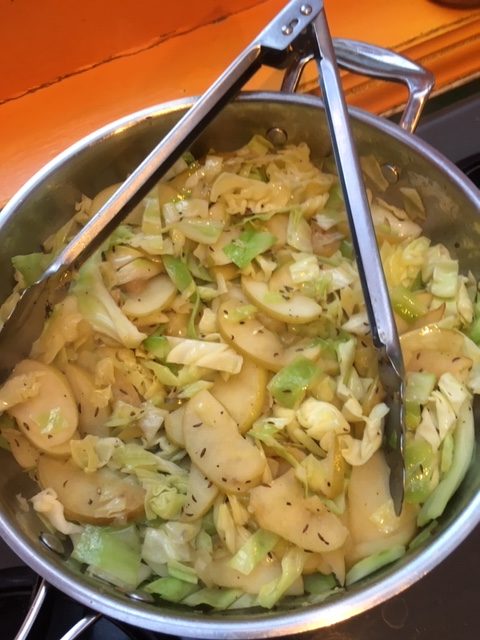 So back to the cabbage. You will need about a quarter of a cabbage sliced, 2 green apples sliced skin on, 2 Tbsp butter, 1 tsp caraway seeds, Salt & Pepper to taste.
Melt the butter in a large hot fry pan, add the sliced apples and saute until some are starting to brown. Now add sliced cabbage and continue to cook, turning frequently. You may need to add a very small amount of water at this point but the moisture from the apples should be enough to cook the cabbage. Lastly add the caraway seeds, salt & pepper to taste. Serve immediately. Simple but super yummy. This accompanied a pork chop and apricot casserole and creamy mashed potatoes. Enjoy!