I have just recently returned from time in London with two of my adult children (now resident). I got happily hooked into watching re-runs of The Great British Bake-off on Netflix. We started from the first series and spent many evenings watching and discussing baking techniques as well as the different personalities of the contestants. I'm always on the hunt for great bread recipes. I learnt a lot listening to the judges discussing the whys and the wherefores and critiquing the crust and the crumb of many different types of breads. Cooking and baking has been a family affair. A question put to me by my son got me to reminiscing "why did we eat so much middle eastern food?" The Complete Middle East Cookbook by Tess Mallos  was and still is my absolute favourite cookbook. It has shaped our eating habits for nearly 40 years. Every celebration meal, large and small was inspired by this book. From stuffed cabbage leaves to lemon semolina cake from olive bread to lentil and silverbeet soup. Most recipes are affordable and delicious and were fundamental in shaping my children's palettes. Today I made a new (for me) bread inspired by the Turkish bakery just down the road from my son's apartment. It's from THE BOOK and all credit goes to Tess Mallos. This recipe make four loaves of Barbari, Persian white bread. The crust is crunchy, with a real snap and perfect with any flavoursome dips like hummus, pesto or tapenade.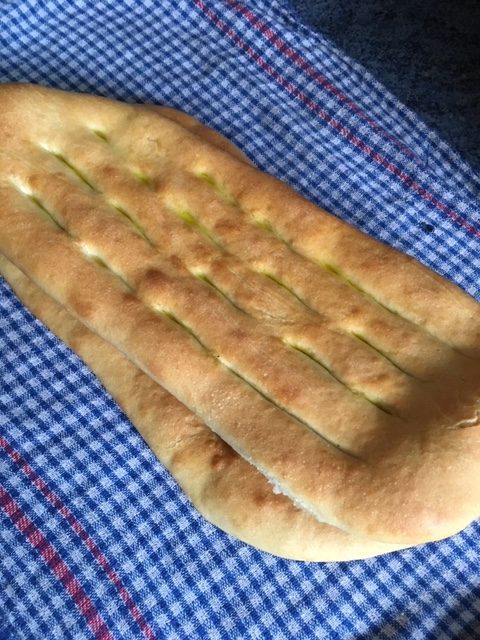 Ingredients; 2 1/12 tsp yeast granules, 2 cups warm water, 1 1/2 tsp salt, 5 cups plain flour (I used organic white spelt). 1 TBsp oil and extra oil for shaping.
Method; 1/ Sprinkle the yeast onto the warm water ( I use a small plastic bowl so the water doesn't lose it's heat). Leave for about 5-10 minutes to dissolve then stir in the salt.
2/ Sift 4 cups of the flour into a large bowl. Make a well in the centre of the flour and add the yeast mix. Gently bring up a little of the flour around the edge of the well mixing to slightly thicken the yeast liquid. Cover the bowl and leave in a warm place for about 10 minutes or so until frothy.
3/ Blend in the remaining flour in the bowl and beat with a wooden spoon for about 5 minutes. Tess uses an electric mixer but I continued to knead first adding the TBsp of oil then very slowly adding the extra cup of flour. Adding enough flour at a time to just stop the dough sticking to the board. This important part of the process took me about 10 minutes. Cover the bowl and leave in a warm place for about 30 minutes – 1 hour until doubled in bulk.
4/ Turn the dough onto an oiled board and divide in 4 equal portions. Roll each into a ball, oil your hands and the rolling pin. Shape each ball into a rectangle and lightly roll out to strips about 12 inches by 5 inches. Preheat the oven to a hot 220oC. Place on lightly oiled trays (2) cover with clean cloth and leave in a warm place for approx 20 minutes.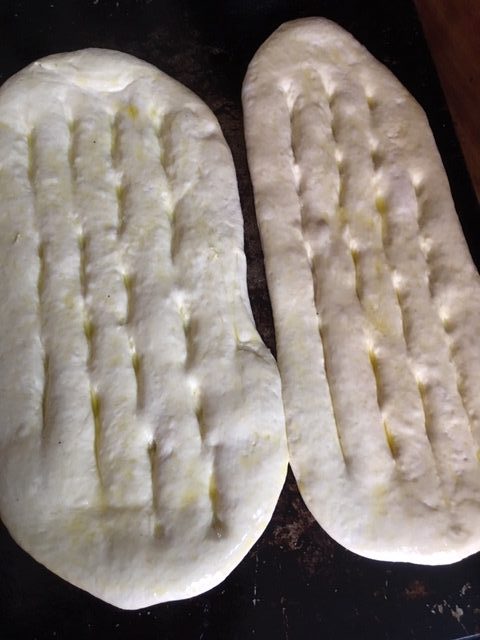 5/ Brush tops of loaves with good oil and make four parallel grooves in each loaf running along the length as above stopping an inch or so before the edge. Make the grooves using the edge of your forefinger. Bake centre shelf in a hot oven for about 15 minutes or until golden brown. Enjoy!