This recipe for garlic lentils is a delicious, healthy, hearty and economical meal to feed a family. I normally serve this with a baked potato or my peanut rice (recipe to follow) and a green salad or cole slaw. In my experience it's a perfectly acceptable vegetarian option for many a diehard meat-eater. Leftovers are yummy on wholegrain well-buttered toast for breakfast the following day.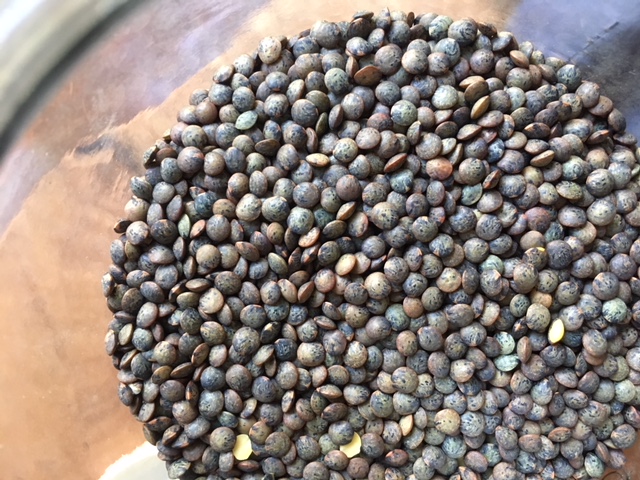 Check out these health benefits of lentils; high in fiber, help lower cholesterol, good for heart health, high in vegetable protein, vitamins and minerals, good source of iron, stabilize blood sugar levels and keep you bowels regular.
Ingredients; 1 heaped cup brown/french lentils, 6 fat cloves garlic, 1 can tomatoes (fresh chopped if you have them), 50 grams butter, 1/2 tsp grainy salt and pepper. (serves 3-4)
Take one cup of (washed) lentils and cover well with water. Bring to the boil and simmer for approx half an hour until cooked. Keep an eye on the water level as it can disappear quickly.  You'll need to top the water up once or twice but this is the idea. Ideally when your lentils are properly cooked there will be no water left in the pot, just cooked lentils. Time too can vary depending on the type of lentil. While the lentils are cooking chop and crush the garlic with the salt. Melt the butter in a good sized frypan, add the crushed salted garlic and gently cook till golden. About now is one of my all time favourite kitchen aromas!  Add the tomatoes, stir to combine and cook for a few minutes then add the cooked lentils. Gently heat for 5 to 10 minutes to reduce any liquid from the tomatoes. It's not every day that something this simple can taste so good. Grind over black pepper and salt to taste. Enjoy.