I've held back for a long time from writing about any of our native medicine plants growing here in Aotearoa NZ. Kumarahou is a case in point. It's seen less and less, growing as it does, or at least trying to establish itself on clay banks alongside country roads. It can take years for the seeds to germinate. As long as 8 years I've been told so not such an easy plant to propagate in a nursery situation. Years ago I managed to purchase a few seedlings and have nurtured them carefully trying to find the right spot where they can flourish and maybe, just maybe set some of their own seed and grow some babies. I've used some of the leaves to make tonics and tinctures but never been greedy. The health and well-being of the mother plants are more important, and they are quite a sensitive plant requiring gentle treatment. Read the full post.
So yes that's the crux of it. To use these plants successfully one must be in relationship with them and with Papatuaanuku. As I sit here typing this, looking out at the ngahere that runs along the valley I see my whanaunga. Majestic beings living together symbiotically, with other beings; birds, insects, fungi and bacteria.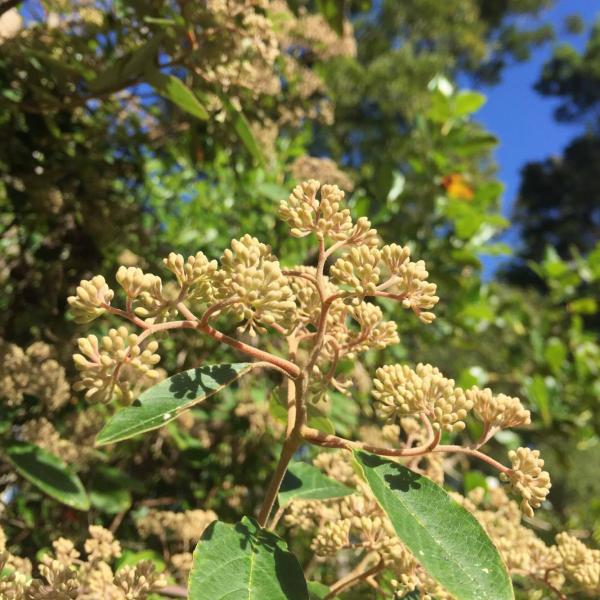 Kumarahou can be used as a support for the lungs and the liver. It's useful for bronchitis and asthma. A small handful of leaves simmered in a litre of water is a great supportive treatment for someone with emphysema, especially during the winter season when they can be more susceptible to lung infections. A warm cupful first thing in the morning before eating is best. It has a bitter taste with a sweet aftertaste, stimulating and supporting liver function, a good spring tonic.
Make sure to talk to your local rongoaa Maori practitioner before gathering or preparing tonics. Contact your local marae for more information.
Papatuaanuku; Earth mother, the earth
ngahere; the bush, the forest
whanaunga; relatives
rongoaa; medicine, treatment
We use Kumarahou in our Solar-x