From memory the first time I had this dish was while visiting my kids in London and being taken on one culinary adventure after another. I'm such a spoilt mama! Kimchi is another fabulous fermented food you can easily add to your diet. A Korean traditional dish, it was a way of preserving cabbage for the cold winter months pre-refrigeration. There are many different ways of making kimchi and many different potential ingredients. The one I have made here is super basic. I've chosen everyday ingredients but I'm happy with the results. I've found each time I help myself to a forkful from the jar it gives me a nice little lift. Most kimchi has a strong red coloration, perhaps from more cayenne than I've used? though this one has a pretty good bite to it with just 1/2 tsp. For recipe read the full post.
I used 1/2 cabbage, 1 large cup of grated Daikon radish, 4 tablespoons sea salt, 5 cups water, 2 spring onions chopped , 2 cloves crushed garlic, 2 tbsp grated fresh ginger, 1/2 tsp cayenne pepper.
If you can get your hands on one of those oblong shaped Chinese cabbages that is best, all I could get this time was the regular sort. Grate the radish, slice and chop the cabbage into 3″ x 3″ pieces (preferably)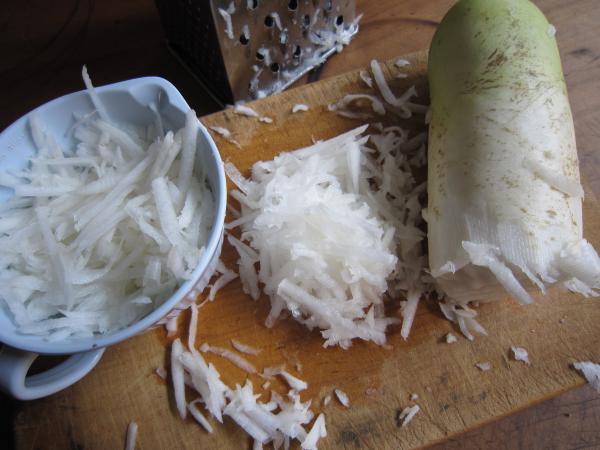 Dissolve the salt into a large bowl or clean bucket with enough water to make a brine just covering the cabbage/radish mix. Press down with a plate (I put another heavy jug on top of the plate to keep the veges under the brine) Cover with a cloth and leave for at least 12 hours.
Next day drain off the brine and add all the other ingredients to the cabbage/radish combo. I then put the lot into a crock poured the brine back over the mix. Place a plate and something heavy on top to again keep the veges submerged. Cover with a cloth and leave for between 3 to 5 days until it starts to smell nice and sour. Store in glass jars in the fridge.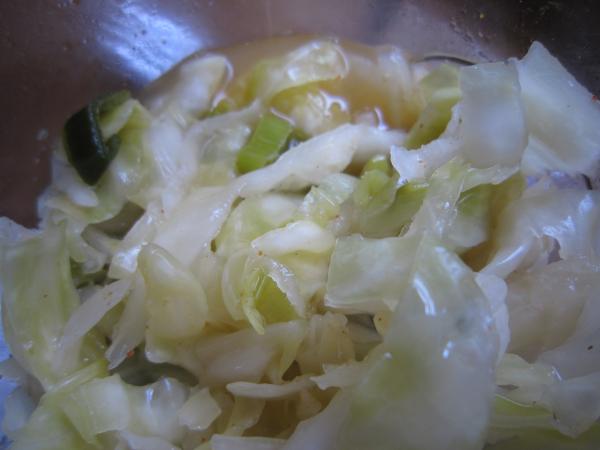 enjoy 🙂