Last December I made a few bottles of vanilla extract. One for my own use and the other as a gift. Today I've made more vanilla extract as well as a few bottles of almond extract and orange extract. I go through a fair bit of these three previously store bought essences. Good/natural essences aren't cheap so it makes sense to make your own. They are super easy to make but you do need a little patience to allow them to sit, steep and flavourise for between 2 to 4 months.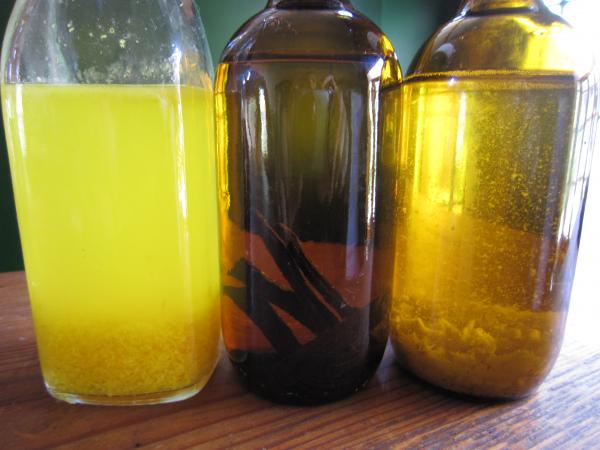 Today's effort. From the left orange, vanilla and almond extracts.
VANILLA EXTRACT. To make 250mls vanilla essence/extract you need 2 vanilla pods and 250mls vodka no less than 37% alcohol. Slice the vanilla pods down the centre and either scrape the seeds out and cut the pods into smaller pieces or simply slice and scrape. Put the seeds and the pods into a 250ml jar or bottle and fill up with the vodka.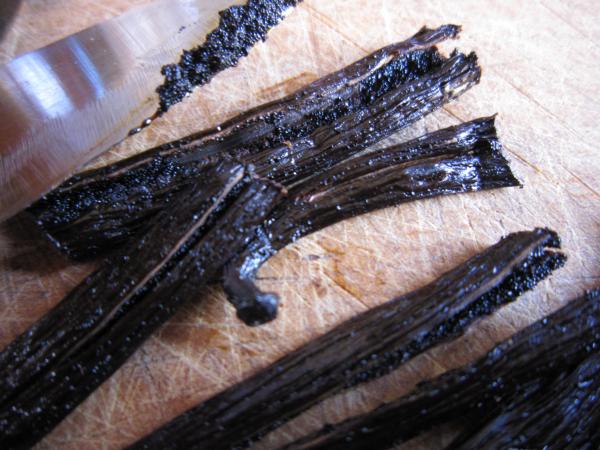 Lid and set aside for at least 2 months allowing the flavours to be fully extracted from the pods. For the first month give the bottle a gentle shake every few days.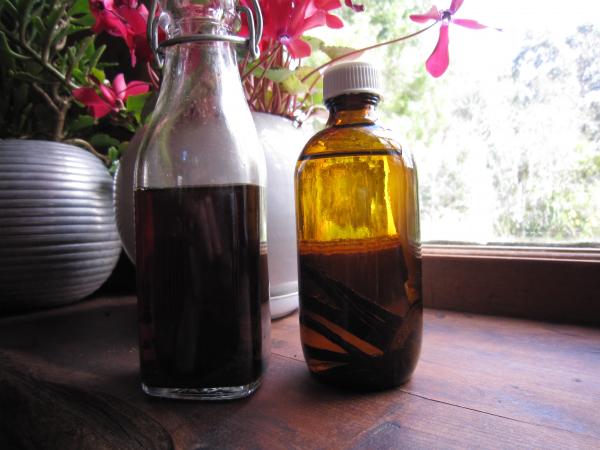 Some people eventually strain off the vanilla pods but not me. The clear bottle is last years batch, dark and yummy and fully flavoured with the beans still steeping.
ALMOND EXTRACT. Follow the same process as with the vanilla beans above but this time with almonds. I used 10 almonds per 250 mls of vodka (37% alcohol). If you leave the skins on the almonds it can make the extract a little bitter so I soaked my almonds in a little boiling water for a few minutes so that I could easily squeeze the skins off. I then chopped up the almonds as finely as I could, placed them into the bottle, topped up with vodka, put the lid on to set aside for a few months. Remember to gently shake the bottle every few days for the first month. Again you may to prefer to eventually strain off the almonds if you choose.
ORANGE EXTRACT. Same process as above except using 2 fresh oranges and vodka. I removed the peel from the oranges using my fabulous zest grater making sure to avoid the pith as it can be bitter.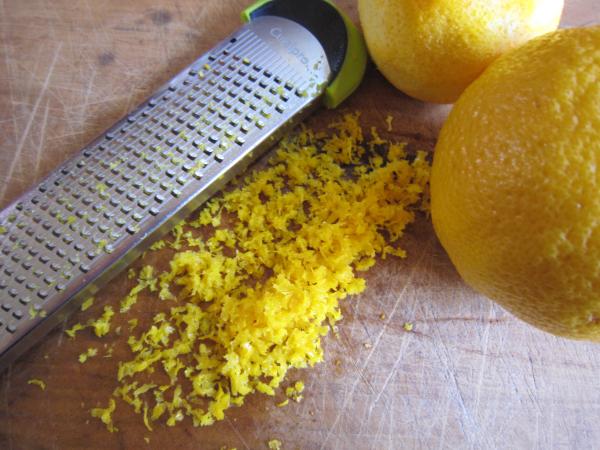 Place the zest into a small bottle or jar and fill with the vodka. Lid and set aside for 2 to 4 months shaking gently each day for the first month. I used the vanilla extract in my berry oaty muffins and this gluten-free banana bread. I'm particularly looking forward to using the almond and orange extracts in my delicious apple and almond cake. I will need some patience!
ENJOY 🙂