It's perfect weather for making and eating potato gnocchi.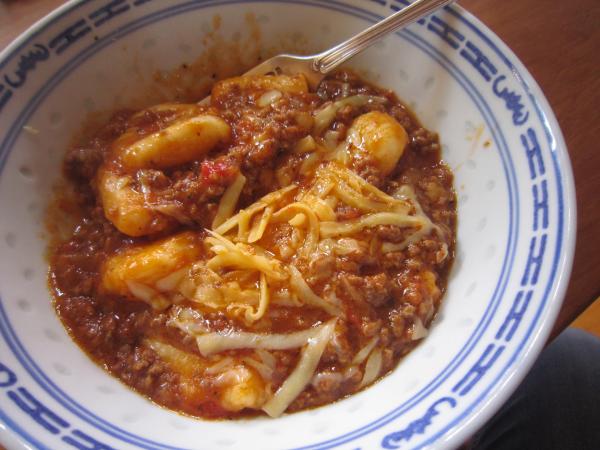 Too dull and chilly for me to be in the garden and still cold enough to warrant a fire. With weather like this I don't feel torn between being outside gardening, or staying indoors keeping warm. I was searching through my cook-books recently when I came upon this old favourite. It's from one of those Australian Women's Weekly collectible cookbooks you could buy from supermarkets about twenty or more years ago. When the kids were small this cookbook titled "Cooking class cookbook" and The Middle Eastern Cookbook were my go to's. Both use everyday ingredients and are simple but nourishing family meals. For the recipe read the full post.
Sauce Ingredients; 60gms butter, 1 large onion, a few cloves garlic, 500gm mince, 1 can tomatoes or equivalent chopped fresh, 2 tablesppons tomato paste, 2 cups dry white wine (can substitute with water), 1 cup chicken stock (or water and stock cubes)1 tsp sugar, 1 tsp dried basil, salt and pepper.
Gnocchi Ingredients; 500gms old potatoes, 1 1/2 cups self-raising flour, 1 egg, 1/2 tsp salt.
The Sauce; Saute chopped onion, crushed garlic and mince in the butter until the meat is lightly browned. Add tomatoes, paste, wine, water, stock, sugar, basil and salt and pepper.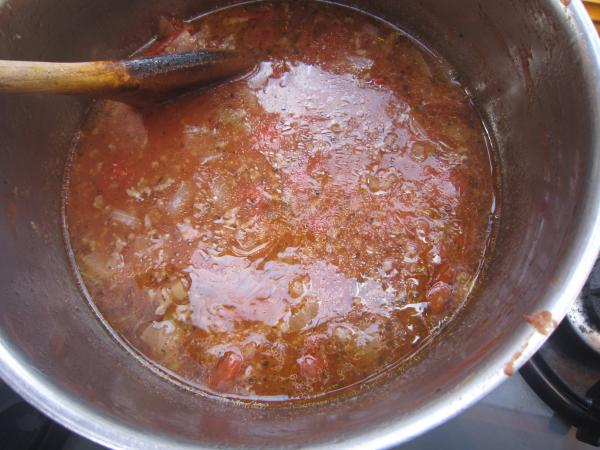 Mix and bring to the boil. Reduce heat to a simmer and cook very slowly for about 1 1/2 hours or until the liquid has reduced to a thick sauce.
The Gnocchi; Meanwhile peel the potatoes and boil until very tender. When cooked drain well, then using the back of a spoon push the potatoes through a fine seive. Add the seived potatoes to the flour, salt and egg (lightly beaten) Mix well and turn out onto a floured board, kneading for a few minutes. Divide the dough into quarters.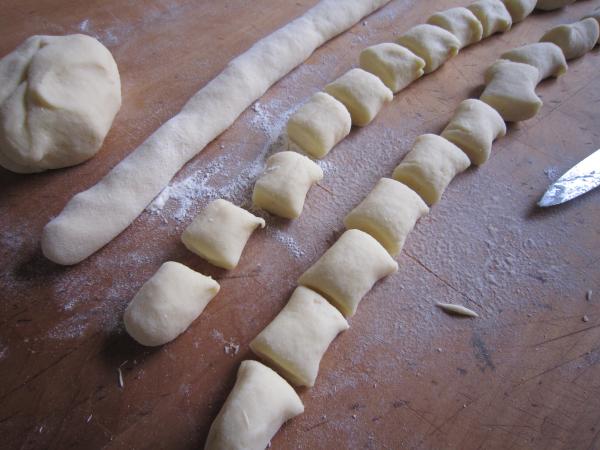 Roll each quarter (on a floured board as the dough tends to be very sticky) into a long sausage. The roll should be about 2.5 cm's wide. Cut these into 2.5 cm lengths. Next make indentations into these and shape them into uniform doughboys. You can use the back of a grater or roll them over a fork as I did this time.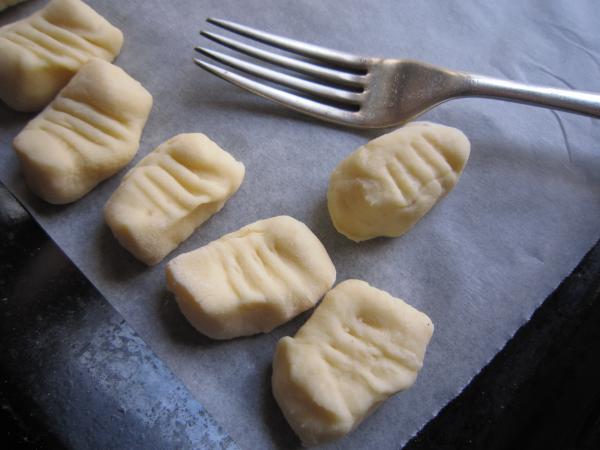 The idea is to have more places for the sauce to settle into. Meanwhile bring a large pot of salted water to the boil. Once you have made all your little doughboys you will add some at a time to the boiling water. The gnocchi shapes will initially sink to the bottom of the pan.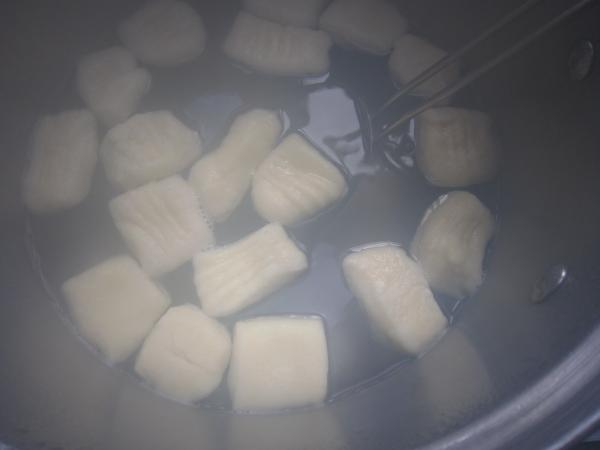 When they rise to the surface continue boiling for a minute, then remove and add to the already prepared sauce. Simmer the sauce and gnocchi together for another 5 minutes then serve with a little grated parmesan on top and a green salad on the side. Enjoy 🙂