A few years ago my friend Anna gave me a taster of some of her damson plum "schnapps". It was seriously delicious, and a taste soon turned into quite a few more. The definition of schnapps is any strong alcoholic beverage. She had covered plums in gin and added some sugar. This could be called a liqueur also because of the addition of sugar. Anyways I got all inspired this summer to make some for myself. I did some research and decided that I didn't want to add sugar. I would try for the cleaner/truer flavour of the fruit only. If it wasn't sweet enough I could always add sugar later. Here is a helpful reference site. The few samplings that some of us have had are all in favour and I have been hard pressed to keep some family members hands off my stash (Jake!!!!).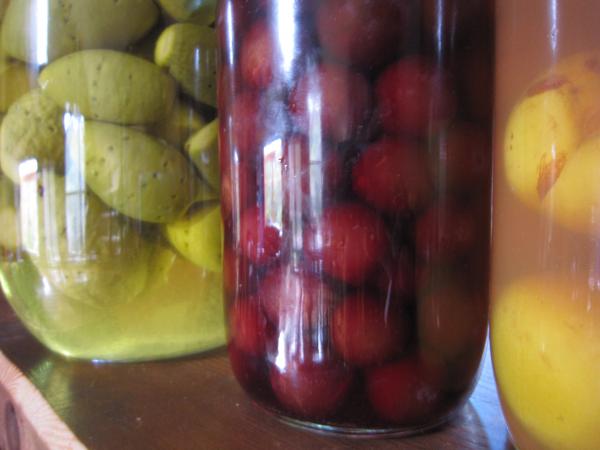 I'm planning to crack them open at a few family occasions that are coming up soon. I used either Gin or Vodka for the different fruit. Gin for the plums and vodka for the feijoas. The choice is yours. I've forgotten the names of some of my fruit tree varieties, one of which is a small french desert pear that tastes very much like honey. I made one with these, one with damson plums, another with a dark plum, my wildling golden queen peach and of course feijoas. For more details read the full post.
The method is super simple; Gather some clean, sun-ripened fruit. Wash and cut off any bad bits. Poke holes into the fruit with a fork to allow the alcohol in and the? juice out and pack into some large jars with good lids. I added a few spices to different ones like whole black pepper corns and some juniper berries. I added slices of lemon and a few cloves to the pears. Then pour your alcohol over to cover the fruit, lid it and leave in a dark cupboard for a few months. I plan to leave them like this until I use them, as the fruit flavour gets stronger over time. I put most of it down at the end of summer apart from the feijoas as they are an autumn fruit. Imagine the fruit with home-made ice-cream 🙂 Strictly adults only. Enjoy!