I'm so loving this flavoursome and dense garden salad these early spring days. In my somewhat challenging microclimate here in the puhoi valley I'm unable to grow tender salad greens just yet. In another month once the soil warms up and drys out a little I should have an abundance of mesclun, lettuces and rocket etc. In the meantime I'm using up the last of the winter greens still flourishing in my garden. This hearty salad feels just right to be eating on an evening where there is still a chill in the air.
What I'm using; a few leaves of kale (mine's going to seed so picking some of the flowers tops as well), a few leaves of silverbeet, lots of tender mint leaves, a few sprigs of parsley, a few sorrel leaves, nasturtium flowers, pinching out a few tops off my broad beans plants, some chives, a beetroot and using some leaves as well, a carrot (I've got some interesting purple ones at the moment), a few leaves of seeding mizuna.
wash and grate the carrot and the beetroot and chop up (quite finely) all the greens. I use a salad spinner to wash and dry my greens. Using one of those makes for the best green salads. Because the greens are well dry, the dressing coats them beautifully. Toss everything together in a bowl and add the zest of a lemon. Squeeze the juice from the lemon over top.
Add some cubed fetta and a good drizzle of vinaigrette dressing.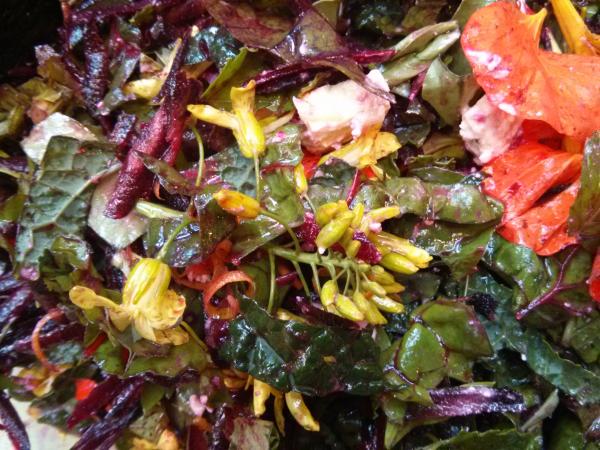 I also dry roast a few pumpkin seeds in a fry pan until they pop and sprinkle over the salad.
Enjoy!