Sounds dull doesn't it! Vege lasagne, It won't win awards for haute cuisine, but it does win awards in my book. What I'm looking for in a meal is something that tastes good, looks good, is nutritious, and is packed with fresh vegetables. This dish changes seasonally, is freezer friendly, child friendly, nutritious and delicious. I usually make two and divide one into single-sized portions to go in the freezer.
From the garden I picked basil, zucchini, silverbeet, parsley and some multiplying welsh onions. I had a butternut and carrots in the pantry. Ricotta and cream cheese in the fridge. Perfect! The ingredients are just suggestions, use whatever you have on hand. Tofu or cottage cheese is good too. Like a regular lasagne you make layers. For this one it's layers of red sauce, veges, cottage cheese etc and lasagne sheets.
To make the Red sauce you will need;
A very, very generous slosh of olive oil, sliced onion, crushed garlic, dried breadcrumbs (about 1 tbsp), parsley fresh or dried, pesto or dried basil, salt and pepper tomatoes fresh or canned, tomato paste or puree, 1-2 small carrots grated.
Method;
In a medium sized saucepan saute the onion, garlic, then add the breadcrumbs. Stir until the breadcrumbs are a little fried taking care not to burn them. You may need to add more olive oil at this point (be generous). Now add herbs and or pesto, salt and pepper and saute for a moment longer. Add tomatoes and paste/puree and stir. Add approx the same amount of water as tomatoes to the pot, then the grated carrot, the salt and pepper and allow to simmer for about half an hour. It's better to have too much sauce than too little. You can always freeze any extra to use another time or in another dish.
Ingredients that I used this time;
1/4 butternut thinly sliced, a good handful of silverbeet leaves chopped, lots of fresh basil leaves, a few welsh multiplying onions finely chopped, 2 courgettes thinly sliced, salt and pepper, enough lasagne sheets to make three layers in your pan, ricotta, sour cream, parmesan cheese.
Assembling the lasagne
Put a little of the red sauce on the base of the lasagne pan to ensure the bottom layer doesn't stick to the pan.
Cover with your first layer of lasagne sheets then with a layer of sauce.
Place a layer of basil leaves over the sauce
A layer of sliced pumpkin
Generously dot with the ricotta and sprinkle with chopped welsh multiplying onions
Season with salt and pepper and you are ready for next layer of lasagne sheets
Again cover well with a layer of the red sauce
Use the rest of the veges, this time it's sliced courgettes dotted with some sour cream
and the chopped silverbeet
season with salt and pepper and add the final layer of the lasagne sheets and lightly cover with red sauce
Lightly sprinkle with grated cheese, parmesan is good
Very carefully pour a small cup of water around the sides of the lasagne against the inside edge of the dish.? Cover with silver foil and bake in a 180C pre-heated oven for about 40 minutes.? Remove the foil, turn oven down to 150C and bake for a further 10 minutes.
Remove from the oven and serve with a fresh green salad.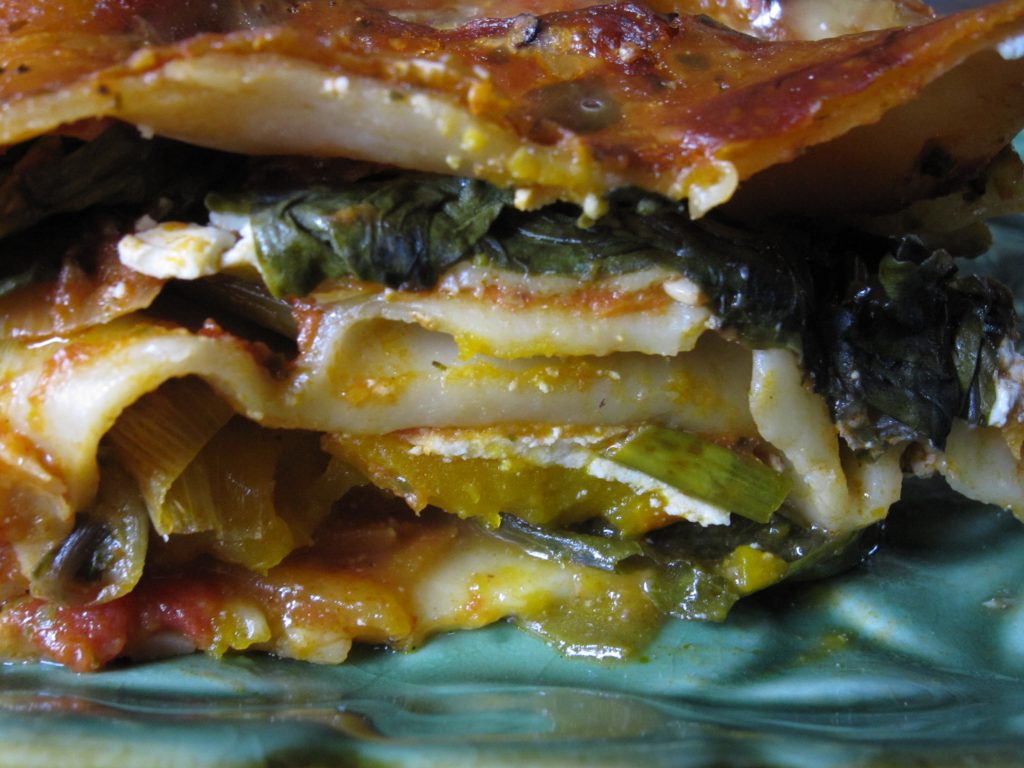 Couldn't resist an extreme close-up. Enjoy!