Sweet Basil is a herb I plant in the garden without fail every Spring. Genovese basil is the main variety I plant as soon as the ground warms up. This is the variety I prefer to make into pesto. It's the regular basil, the one we are all familiar with. Bright green with shiny leaves, sweet and aromatic. Suddenly thinking…..why do I always make pesto out of Genovese basil. Mainly habit but also because it grows so well. The plants become huge. Each day I make sure I pick out all the developing flowering tops. This keeps the plants going right through until the first frosts. Basil plants are sun worshipers, don't need much watering and are wonderful companion plants for tomatoes. I love planting marigolds amongst the basil plants, just for the beauty of the colors. I do plant other varieties of basil as well. This year I included purple Cinnamon basil and Lemon basil. Lemon basil is my personal favourite for salads. Next season I'm going to try making some pesto out of Lemon basil. I would love to make pesto out of cilantro but I can't seem to get it to grow well enough, it always bolts to seed.
lemon basil and thai basil nested amongst zinnias and marigolds.
This summer season my perfect salad was: a few handfuls of basil leaves of different varieties, rocket leaves, fresh-picked cherry tomatoes, fresh cucumber cubed, chunks of avocado and cubed fetta. Liberal sprinklings of a good sun-dried salt and black pepper. Drizzle with avocado or olive oil and a bit of balsamic. To die for. You can pretty much tart up any dish by throwing in a handful of fresh basil leaves. Pasta and Basil are perfect together with fresh crushed garlic, warmed through cherry tomatoes (or your own sweet oven-dried ones) big chunky grated parmesan, fresh lemon zest and of course salt, pepper and olive oil. Simple, classic flavours working together like a dream.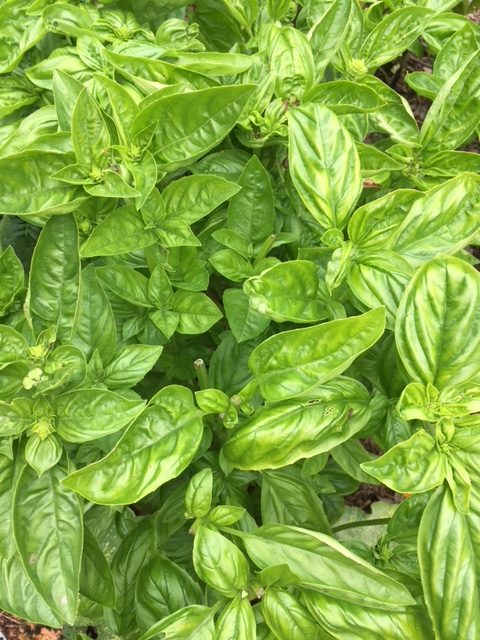 genovese basil.
I make basil pesto all through the summer and freeze most of it in little jars. It's ready to use during the cooler seasons straight from the freezer as the base herbs for pasta dishes, as an indispensable ingredient in spinach and fetta pies, with pan fried potatoes, on toast or burgers, and in soups. It's true, a poached or fried egg becomes a bit posh with a dollop of pesto on top. It's like adding a bit of summer to a sometimes plain or dreary winter meal.
Ingredients for my basil pesto.
3-4 cups of lightly packed basil leaves.
1 cup of parsley leaves.
5 fat cloves of garlic.
About half cup of parmesan cheese.
A quarter cup of nuts. Brazils are my favourite. Pine-nuts are the traditional choice. I never use them as they're too expensive.
One Half – 1 cup of extra virgin cold pressed olive oil.
1 teaspoon of chunky salt such as rock salt.
Wash and dry the basil and parsley and remove any large stalks.
Put everything in the food processor except the oil.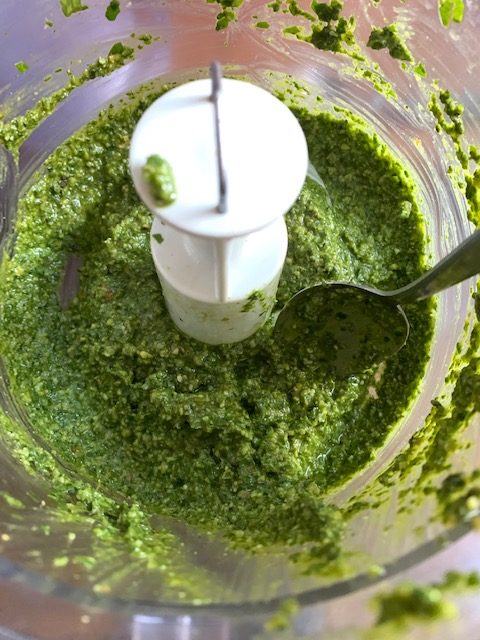 Start to process, then add up to half a cup of the oil. Keep adding very slowly more oil until you have a well-blended green paste, just liquid enough to pour (but not runny) You may want to add more salt or even garlic depending on your taste.
Store in the fridge or freeze.
Enjoy!