Saturday 20th March was a day of great blessings here at Naturally by Trisha. We celebrated the official opening of our Whare Rongoaa, the factory/workshop where our tinctures, balms and creams are made. It was a day like no other. The whare has been a work in progress for many months as we transformed an existing workshop into a place where real magic happens. For more details read the full post
Our Whanau from the Hokianga arrived early to help. Together with some of the tamariki we made some big pots of multi -use balms so every family had one to take home. We also gathered rongoa rakau to make tinctures and plant extracts. Koromiko, rosemary and aloe. We recited our Karakia whilst mixing the balms, with the loving guidance and gentle wisdom of one of our kaumatua. I felt like I had died and gone to heaven. For me this is what this building is about. Watching the children partake of this, simple acts so timeless yet so ancient, so primal and healing. Soon the rest of our extended family and friends arrived. Loved ones from Te Puke, Whangarei, Maungatoroto, Auckland and local.
We gathered in front of the whare and formed a circle, for the official blessing of the whare rongoa and for those that will be working there. We sang, we spoke, we prayed, we laughed and some of us cried. Two of our beautiful young boys performed the most wonderful haka which honoured us all as BEING ONE. To feel that connection with the people, the land, the bush, the birds and insects, what a gift. We gave thanks for being together in this place at this time.
whare rongoa…..medicine house
whanau….family
tamariki….children
rongoaa rakau…..plant medicine
kaumatua….elder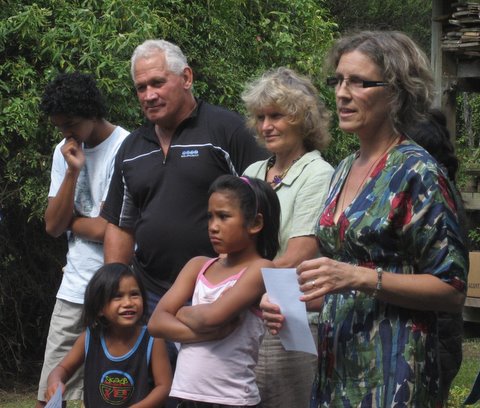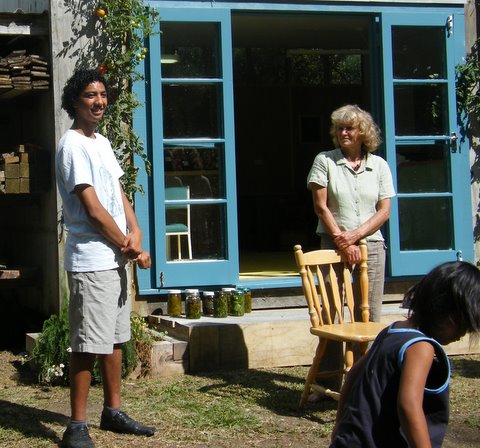 Haami doing karakia.