Every Monday is the day I spend exclusively with my two mokopuna. We go to our Te Puna Reo Māori Playcentre group in the morning then spend the afternoon at home doing stuff. This sweet and sour sausage casserole has become our monday dinner ritual. It's always delicious and always enthusiastically gobbled up by the little guys. I can throw it together in a matter of minutes and there is usually little hands willing to grate the carrots. This recipe was one made by mum when we were kids but was reinvigorated by my brother and sister. I'm pretty sure every family has their own version from around the 70's but this is ours. The secret is to use good quality sausages.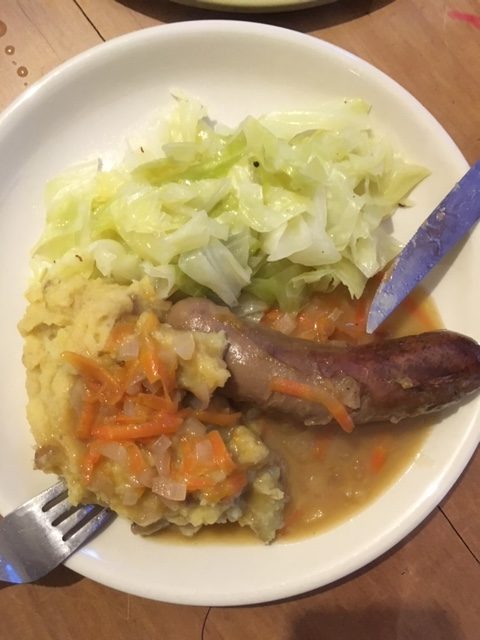 Ingredients; 8-10 good quality sausages, 1 grated carrot, 1 medium onion finely chopped, 2 Tbsp flour, 2 Tbsp malt vinegar, 1 Tbsp worcestershire sauce, 1 Tbsp sugar, salt and pepper, 2 cups boiling water.
Method; Preheat oven to 180C . In a good size casserole place the sausages, grated carrot and chopped onion. In a cup add flour, vinegar, worcestershire sauce and sugar. Stir until a creamy mix. Still stirring add the boiling water and mix to prevent lumps forming. Pour over the sausages and add the second cup of boiling water. Cover with a lid and bake for 45 minutes in a hot oven. Take off the lid for another 15minutes to brown and serve with vege mash and a steamed green veg or warmed sauerkraut.
Enjoy 🙂