It's not very often there is an over abundance  of ripe avocados going spare in this household, but today there was. We were gifted a boxful from a family member and some were damaged/ripe and wouldn't make it through another day. So, even with all my Christmas baking organised I couldn't bear to waste these beauties. Hence this avocado brownie. It's flourless, moist, rich and decadent. I think it would freeze well and be a last minute lush desert with vanilla ice cream or some tangy greek yoghurt. I'm storing mine in the fridge.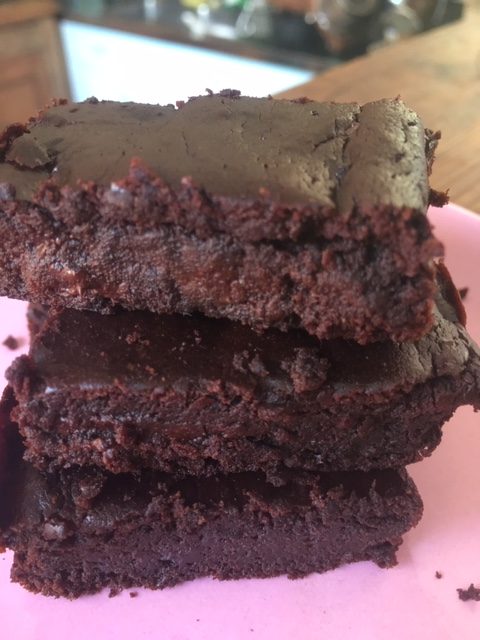 Preheat oven to 180C and line a baking dish with baking paper. I usually grease and flour my tins but baking paper is recommended here.
In a double boiler (a stainless steel bowl on top of a pot of water) melt 1 cup of dark chocolate chunks and 1/4 cup butter. Remove from heat.
In a blender blend 1 avocado and add to the melted chocolate mix. Add 2 eggs and whisk to combine.
Add 2 Tbsp maple syrup, 1/3 cup coconut sugar, 1/2 tsp baking powder, 1/4 cup cocoa powder, 1 tsp pure vanilla extract, and 1/4 tsp sea salt.
Pour into the prepared pan and bake for 30 minutes testing with a skewer. Cut when cool.
Store in the fridge. Enjoy!