Here's another keeper. Old-fashioned bran biscuits. I was flicking through one of our cook-books recently and came across Tui Flowers recipe in The great NZ Cookbook. This a dry but moreish plain biscuit that is perfect with a cup of tea or a cold glass of milk. Inexpensive to make with very little sugar this recipe makes between 20-30 biscuits.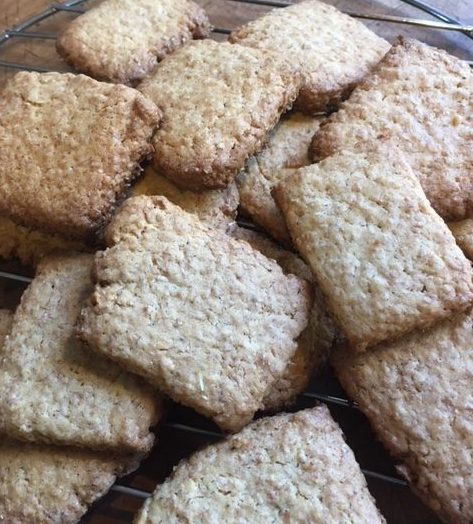 Ingredients; 100g butter, 1/3 cup sugar, 1/4 cup milk, 1 1/4 cups plain flour, 3 tsp baking powder, 1 cup bran.
Method; Pre-heat the oven to 180C and lightly grease two oven trays. Cream the butter and sugar until pale and blended. Stir in the milk. The mixture will look a little distressed. In a separate bowl combine flour, bran and baking powder and then add to the butter/sugar and milk mixture. Mix to form a firm dough.  Divide into two and on a lightly floured surface place half the dough. Cover with plastic wrap and roll out to about 3mm thickness. Remove the plastic wrap and cut the dough into regular sized pieces. Place the pieces onto one of the prepared trays. Repeat with the remaining dough.
Bake for about 15 minutes.  Remove and cool biscuits on a rack. Store in an airtight jar.