One of my big challenges is having something nutritious on hand when LB (just turning one) needs a snack NOW. He loves nothing more than a folded over piece of bread with butter and peanut butter. I've been trying to come up with an alternative to the sammy and here it is. It's got the right chew factor and it doesn't fall apart in his hand. Change it up with any seasonal veges or fresh herbs.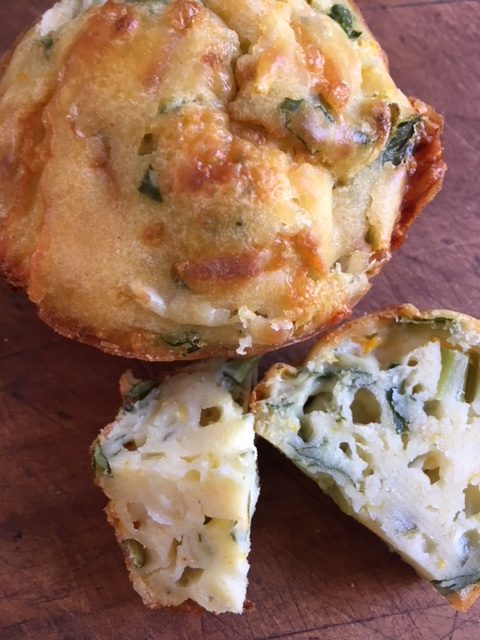 Ingredients;
2 1/2 cups spelt flour
2 tsp baking powder
2 cups grated tasty cheese
2 free-range eggs
1/2 cup oil
1 1/2 cups milk
2 cups diced veges (I used onion, zuchinni, spinach)
1/2 tsp salt
Method;
Preheat oven to 200c  and grease a 12 hole muffin tray.
Sift flour and baking powder and mix with grated cheese in a large bowl.
Beat together the eggs, oil and milk. Add to the flour and fold together until just combined. Fold in the veges and seasoning.
Spoon into greased muffin pan and bake for 25 minutes.
Leave in the pan to cool for 5-10 minutes.