Here is a soup that tastes as if it's been slow cooking for hours yet takes only about 45 minutes from start to finish to make. I find it quite challenging to make a really good soup. This soup is very tasty, hearty and filling, and economical. It's my kind of soup.
All of the ingredients are likely to be in your fridge and cupboard most of the time. Bacon is the one thing that I'm most likely not to have as I will only buy free range pork products. Because I love this soup I will especially buy some free range bacon and put small bags with 2 rashers in each, in the freezer.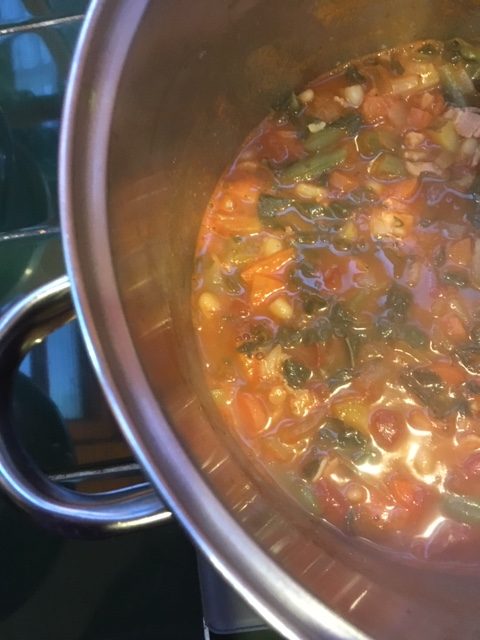 Ingredients;
1 small onion, chopped
1 small carrot, chopped
a few leaves of spinach or silverbeet, chopped
a small handful of green beans,chopped
1 small potato, chopped
4 cloves garlic
2 rashers of bacon, chopped
1 can of beans (haricot, red kidney, whatever you have)
1 can chopped tomatoes
1 large cup of water
1 tspn finely chopped herbs eg parsley, thyme, oregano…or dried mixed herbs if you don't have fresh
salt and pepper
Add all ingredients to a pot and let it simmer for about 20 minutes, then add a quarter of a cup of pasta (I prefer elbows) and simmer for a further 15 minutes. Serve with grated parmesan and lots if freshly ground black pepper.
Enjoy!